Zebras

Giraffes

Rhinos

Mrs Taylor

Miss Nutbrown (Team Leader) &

Mrs MacDougall

Mr Harris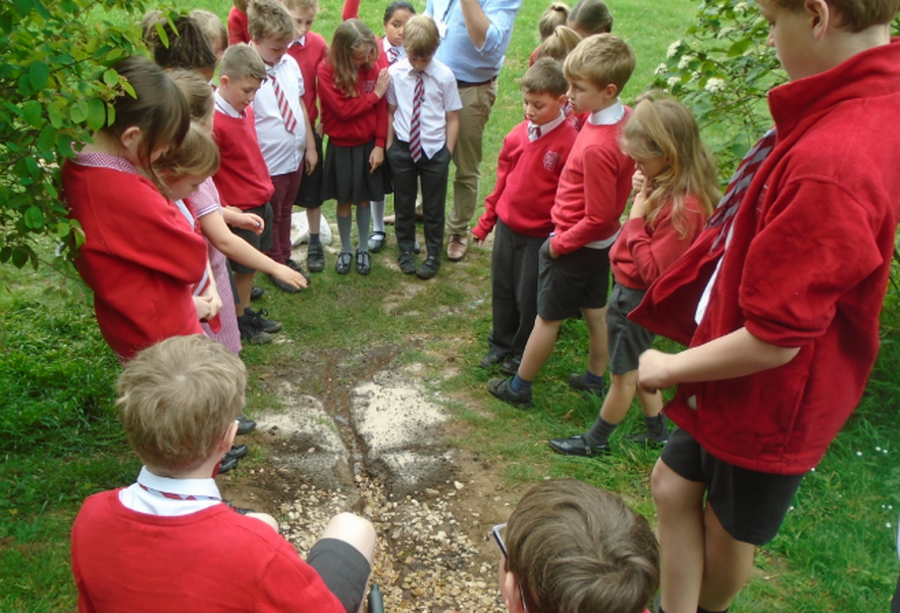 Welcome to Year 4!
Welcome back to a new term at Barley Hill. We hope you all enjoyed the Easter break and the children managed to have a well-deserved rest! On behalf of the Year 4 Team, I would like to say thank you so much for all your support at the end of last term. It was fantastic to see so many Year 4 parents at the Science Week open afternoon, Reading workshop and also watching Year 4 perform their imaginative play scripts at the Living Museum Festival. I am sure you will agree the children worked so hard on all of these projects!
A HUGE Thank you again to everyone for supporting our Year 4 Cake Sale on Friday 22nd March.
Year 4 are looking forward to using this money to go towards the opportunity of meeting the author Emma Carroll through a Skype question and answer talk on Monday 29th April. As we raised money beyond our target of £100, we will be looking at how we can also spend the rest of the money with Year 4. Thank you to all the children and parents in Year 4 for making, providing and helping to sell the cakes. What a fantastic achievement!

We are looking forward to another busy and exciting final term of the year! We hope the children will really enjoy our final two topics starting with 'Rivers ' and are inspired by our initial trip to the Henley River and Rowing Museum on Tuesday 30th April 2019.
River Story by Meredith Hooper
Fluid text and graceful illustrations tell the age-old story of a river -- from its source, a mountain spring, to its end as it streams into the sea. As it moves, the river grows in size and strength, gushing and slowing. Cows come to drink at its banks, sharp hooves sinking in sticky mud. Fish dart among bottles and treasures. City traffic moves over and under and around it while barges, ferries, and tough little tugs ride its changing tides. A dynamic portrait, River Story invites children to think, feel, and imagine as it follows a river on its ancient course.
Geography Topic:
This half of term we are focussing on the Geography topic of 'River', and our English work is initially based on 'River Story'. by Meredith Hooper. Children will begin to understand and describe the stages that form a river. They will think about what a river is and what they already know about them and use technical and Geography topic vocabulary connected to rivers and the River Thames to explain their ideas. Finally, we will think about how Rivers have changed overtime and understand why bridges are important and describe some of the different types.
If you have any questions at all, please don't hesitate to talk to your child's class teacher.
Year 4 Class Assemblies:
We greatly look forward to sharing our Class Assemblies with you on the following dates:

Rhinos: Friday 10th May
Zebras: 21st June
You are more than welcome to attend at 10am or 11am on these dates.
Homework
Maths homework, spellings and talk homework for Big Write are given out every Friday. Children who regularly do their talk homework with an adult find it much easier to come up with ideas for Big Write on Monday morning, so we really appreciate your support! The rest of the homework is due by the following Friday. Reading comprehension homework will be given every other Friday.
Big Write!
Please click on the links below to access your child's Big Write homework:
Spellings
Please click on the links below to access your child's spellings:
English
Reading It has been fantastic to see so many children reading at home in Year 4 this last term. They have all worked together as 'Team Ant' to raise the levels of the class target charts and been motivated and inspired to keep up their reading! Thank you for your support with this. We would like to continue to see many more with this passion! Reading a lot at home will really help children, especially when it comes to understanding key words and comprehension questions. Please can we also request that parents do sign children's reading records so we are able to see if children have completed books or not. If children do finish books at home, they can also read some of their own books too. We will be looking at the children's reading journals during our Reciprocal Reading sessions and children will move up on the class reward chart when they have read at least three times. We will continue to set reading comprehension homework fortnightly. We are hoping to arrange another visit to Thame library this term to inspire our readers even more!
Writing
To tie-in with our Geography knowledge and skills based topic, many of the units that we will look at in English will have a connection to 'Rivers'. For instance, we will look at 'The River Story' by Meredith Hooper. Children will identify poetic language, respond to poems, annotate powerful verbs, key topic words and use their knowledge of a river's course to sequence a poem and write their own poems.
Every week your child has plenty of opportunities to write. We encourage the children to write at length in many different subjects. We also have a weekly Big Write session where we focus on writing lots of different text types, e.g. traditional tale, diary entry, explanation text. This will be on a Monday.
I can read further exception words, noting the unusual correspondences between spelling and sound, and where these occur in the word.
I can prepare poems and play scripts to read aloud and to perform, showing understanding through intonation, tone, volume and action.
I can discuss words and phrases that capture the reader's interest and imagination
I can recognise some different forms of poetry [for example, free verse, narrative poetry]
I can increase the legibility, consistency and quality of my handwriting.
I can evaluate and edit by: assessing the effectiveness of their own and others' writing and suggesting improvements. I can proof-read for spelling and punctuation errors

At home: Please share with me a variety of children's books with a water setting / river theme.
Maths
During this term, children will continue to apply their understanding of place value using all four operations, with a particular focus upon multiplication and division through our Mastery Curriculum approach.
Children will also work on fractions, decimals and time problems. Then move onto Angles, Area, Perimeter and coordinates.
Children will also continue to practise their times tables on a daily basis with 'Times Tables Rock stars' tests increasing their scores and time.
I can recall multiplication and division facts for multiplication tables up to 12 × 12
I can recognise and show, using diagrams, families of common equivalent fractions.
I can identify acute and obtuse angles and compare and order angles up to two right angles by size
I can identify lines of symmetry in 2-D shapes presented in different orientations
I can calculate perimeter in centimetres and metres of rectangles.
I can use co-ordinates in the first quadrant and join to draw posited polygons.
At home: Please help me to practise recalling my multiplication and division facts to 12x12
We continue to use Mastery activities to help children develop their fluency, reasoning and problem solving skills.
Maths homework is given out weekly, and children can choose the challenge appropriate to them. You can also click on the link below to access MyMaths for additional activities.
Science
Our Science topic will be 'States of Matter'.
We will be looking at how materials change as a result of changes of temperature. In particular, how water freezes at low temperatures and how water turns to water vapour at higher temperatures; how water can be formed by vapour condensing as it cools and or by ice melting as it is heated. All this Science relating to the behaviour of water links really well to our topic about rivers.
I can group materials by state (solid, liquid, gas).
I can describe what happens to water as it is heated and cooled.
I can measure temperature in degrees Celsius.
I can tell you about the water cycle.
At home: Please help me to observe different situations where substances change between the different states of matter (Solid / Liquid / Gas).
The children worked extremely hard last term and it has been wonderful to see them develop in all aspects of their school life. We are looking forward to another exciting term – the children are already keen to learn about our new topic: 'Rivers'. If your child has any topic books on this subject or any interesting artefacts, we would encourage them to bring them in so that they can share them at school. Please see some information above about this term and a few reminders that you may find useful. As usual, please don't hesitate to speak to us if you have any questions or concerns about your child. Thank you for your continued support this term.
Miss Nutbrown and Year 4 Team